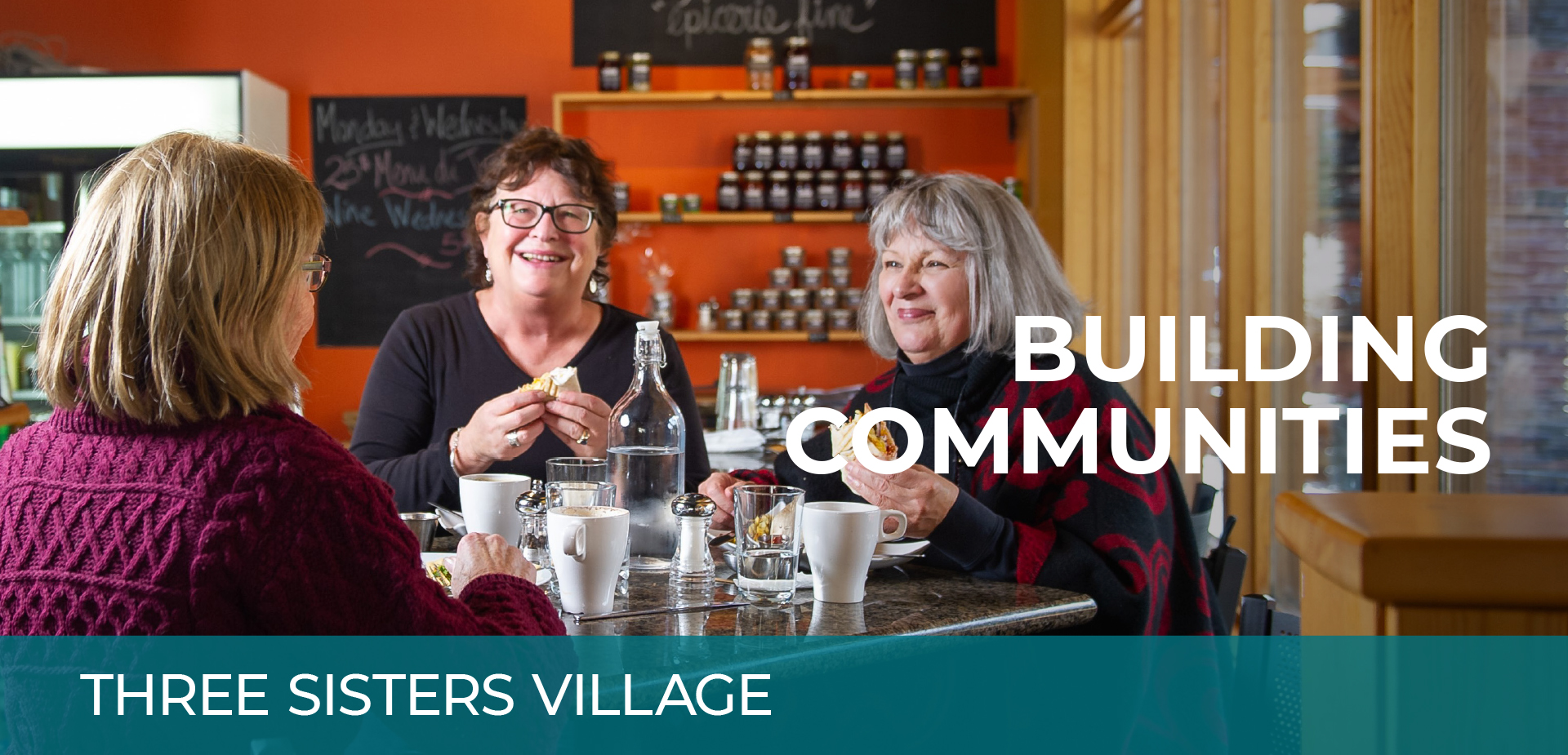 Three Sisters Village is Canmore's newest gathering place – bringing together healthy living with adventures and experiences only found in the Rocky Mountains.
Three Sisters Village welcomes people from around the world to enjoy all that Canmore has to offer. Whether it be a permanent home, a weekend getaway, or a rental income in one of the most scenic corners of the province, Three Sisters Village is the central anchor of our new development.
In line with the traditional Rocky Mountain experience, an outdoor resort recreation amenity area will feature rope courses, climbing walls, bicycle pump tracks, communal firepits and hot tubs, and other outdoor facilities to allow people to soak up the picturesque views.
Bringing together a mixed-use village centre bordered by a landmark hotel, transit, cycling, and pedestrian-only trails, and roadways will link the entire community with existing areas of Canmore. Surrounded by cafes, restaurants, retail and markets, residents and visitors will have no shortage of opportunities to experience the best of Canmore.
The village's Innovation District focuses on integrating creative studios that accommodate office spaces, arts and culture ventures, and artist spaces. This district will showcase the innovation-rich Canmore business community and focus on creation, development, and delivery of services that catalyze economic diversification.
All of these experiences come together under the Three Sisters Village banner, making it a natural hub for local and guest recreational adventures and Rocky Mountain experiences.
Where is Three Sisters Village?
The proposed development area for Three Sisters Village is located within Canmore, south of the downtown core along Three Sisters Parkway, just west of Stewart Creek Golf Course. The Three Sisters will become the focal point of Three Sisters Mountain Village. It is anticipated that the neighborhood will be complete in 20-plus years.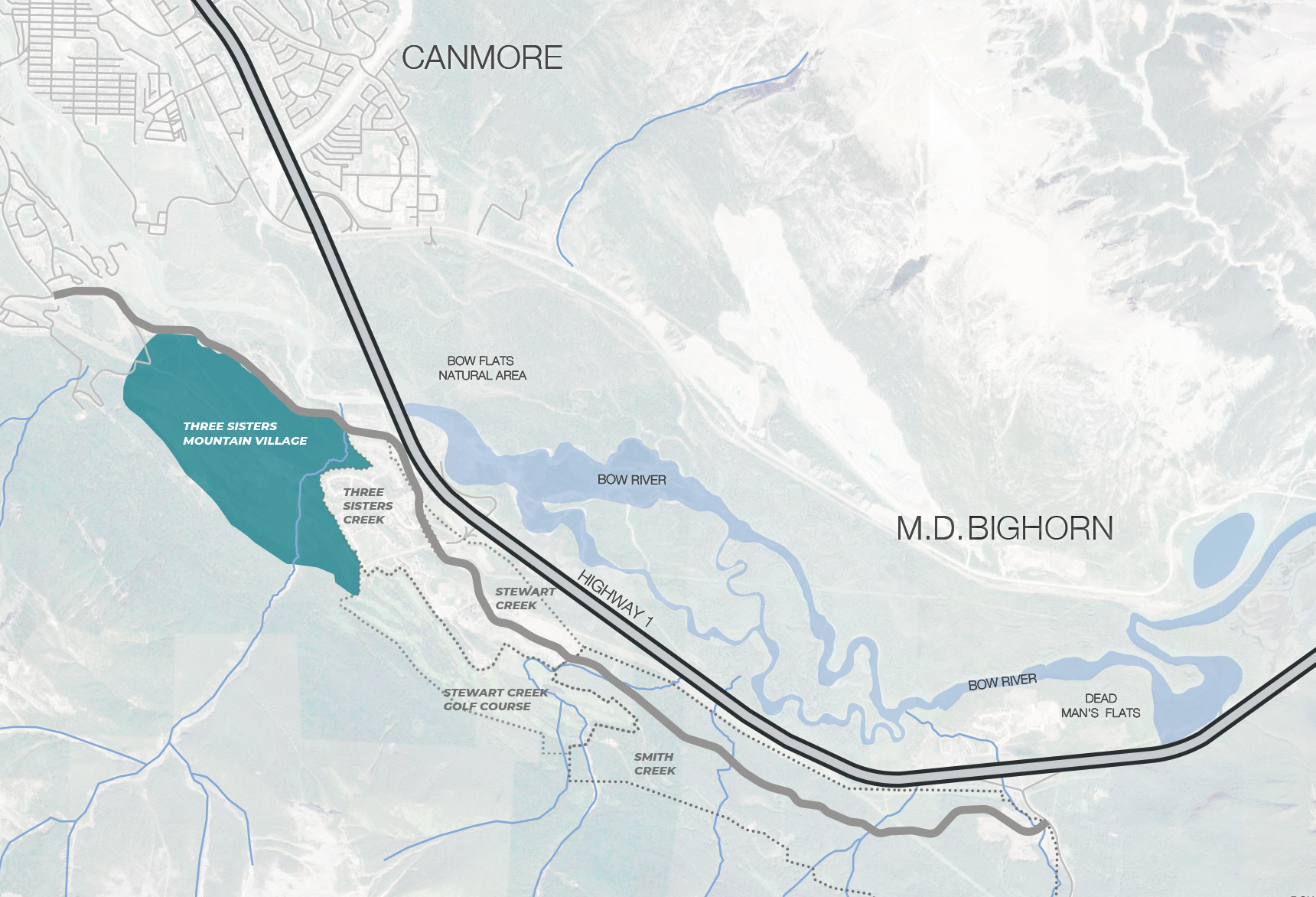 Working with the Town of Canmore
Informed by over five years of community engagement and supporting technical studies, Three Sisters Mountain Village submitted its Area Structure Plan (ASP) for Three Sisters Village to the Town of Canmore in December 2020. Along with the Smith Creek ASP, these high-level planning documents set a vision and broad policy framework for how the Three Sisters Mountain Village community will continue to grow with Canmore over the next 20 to 30 years.
Read our ASP here.
On June 13, 2022, the Town of Canmore Council applied to the Provincial Court of Appeal for a leave to appeal the LPRT decision. On October 25, 2022, the Town was granted a leave to appeal the decision. On April 3, 2023, the Court of Appeal heard the Town of Canmore's appeal of the Land and Property Rights Tribunal decision. On October 3, 2023, the Alberta Court of Appeal announced its decision on Canmore (Town of) v Three Sisters Mountain Village Properties Ltd., in which the Court upheld the May 2022 decisions of the Land and Property Rights Tribunal (LPRT), and dismissed the Town of Canmore's appeal. More information on this decision can be found here.
For more information, please see the Three Sisters Village ASP decision and the Smith Creek ASP decision.