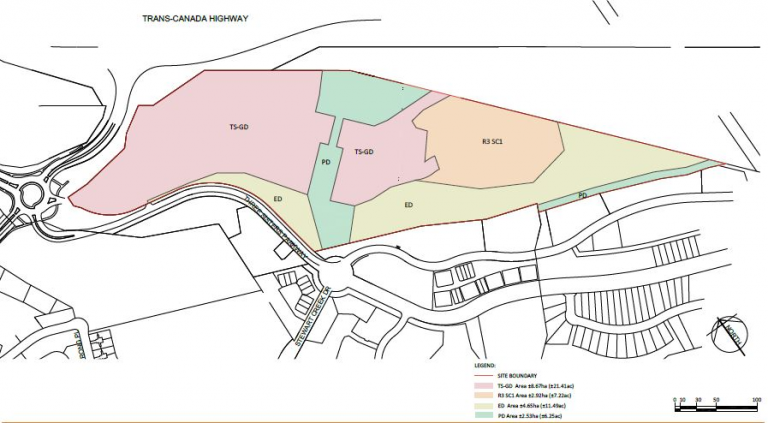 Canmore Town Council unanimously approves Land Use Bylaw amendment for The Gateway 
Town of Canmore Council unanimously approved Second and Third Reading to amend the Land Use Bylaw for The Gateway at Three Sisters Mountain Village on Tuesday, April 6. The approval means commercial development of The Gateway lands, at the intersection of Three Sisters Parkway and Three Sisters Boulevard, will move forward. TSMV started site preparation this week.
The intent of the amendment is to align land use with the future subdivision for the area which includes open spaces and a variety of multi-residential units, including employee housing. The amended bylaw also adds light manufacturing, breweries and distilleries, and drive-through food services as discretionary uses.
Prior to approving Second and Third Reading, Council included two additional amendments including eliminating on street parking along the principal commercial street and ensuring the installation of recycling bins will be done at the developer's expense.
"As I indicated at First Reading, I'm supportive of moving forward with this bylaw. I think the proposed development in The Gateway district is really good development for Canmore. We need what is being proposed there, particularly in the commercial area," said Mayor John Borrowman.
"I know that there's a number of residents in the Three Sisters area that are looking forward to having a large format grocery chain up there and some of the other commercial activities. I'm also quite keen on the possibility of the University of Saskatchewan locating their research lab there."
The Rocky Mountain Outlook previously reported that the University of Saskatchewan announced a formal partnership with Innovate Canmore. The post-secondary institution is exploring opportunities to occupy space at The Gateway at Three Sisters in a proposed office campus known as the Research and Innovation Hub.
If approved, The Gateway's Research and Innovation Hub will accommodate researchers and related facilities, as well as health and wellness practitioners and other professionals. The University currently operates the Global Institute for Water Security and Global Water Futures laboratory out of Canmore.
By approving the amended land use bylaw TSMV will now be able to enter formal discussions with commercial tenants interested in setting up shop, which could also include a large grocery store among other interested businesses.
Watch the April 6 Council meeting here