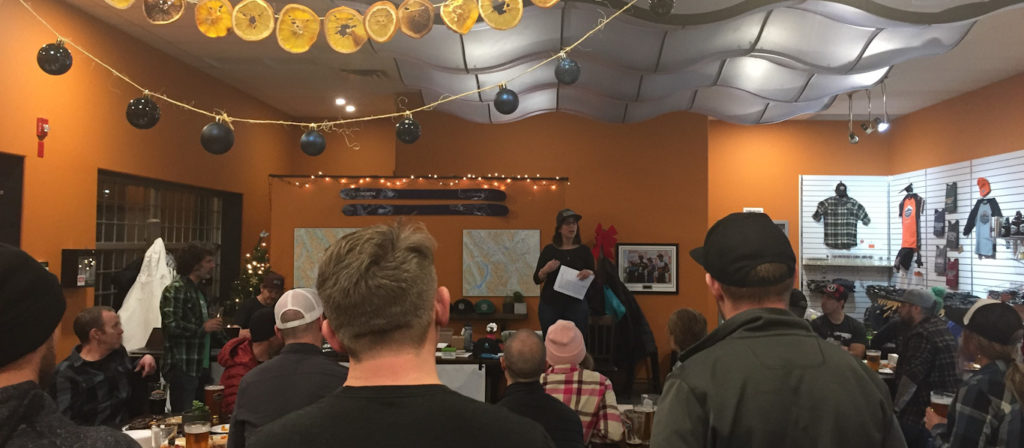 TSMV announces MOU and sponsorship with CAMBA
A path has been set toward securing a long-term vision for an integrated, connected trail system in Canmore. Three Sisters Mountain Village (TSMV) and the Canmore and Area Mountain Bike Association (CAMBA) have signed a Memorandum of Understanding (MOU) to support the development, construction and maintenance of mountain bike trails on TSMV property.
In addition to the MOU, TSMV has provided the not-for profit organization with a $10,000 sponsorship ($5,000 a year over two years) to support ongoing work advocating for, creating and maintaining local mountain bike trails. The MOU and sponsorship were announced on Sunday, December 9 at CAMBA's year end celebration at the Canmore Brewing Company.
"Three Sisters Mountain Village is excited about what this agreement and sponsorship support provides. We've heard from the community in our public outreach sessions and other conversations that having a quality and connected trail system is important. This is a big step towards making that happen," said David Taylor, TSMV president.
"Canmore has some amazing and popular trails, and there are a lot of passionate riders and advocates. This agreement will help support the maintenance and creation of a safe and exciting trail network. It's also a unique opportunity to work together at the beginning of a development process, and we're happy to share this news after years of laying the groundwork to get to this point," said Chad Holowatuk, CAMBA president.
A big part of the agreement is additional resources to support educating users on the affects of human use in designated wildlife corridors. Near-term solutions include creating signage that outlines what trails are permitted, discouraging illegal trail use and building, difficulty levels, closures, construction zones and other important safety information.
"Some very popular trails in the Bow Valley exist on TSMV's land and, it's no secret that we are working toward developing these areas. While we don't know the specifics of what this looks like, we do know that some of these trails will be closed or rerouted at some point," said Taylor. "This long-term collaboration allows for a direct line to the mountain bike community and represents the chance to have all parties at the table when we look at managing these lands into the future."
Holowatuk noted, "We think there's the potential for a partnership that creates positive value for the developer and Canmore's residents, its visitors, its mountain bikers and its economy. Given the value that mountain biking brings to Canmore as both a recreational amenity and economic driver, this opportunity is going to be key for defining development that leverages that value."