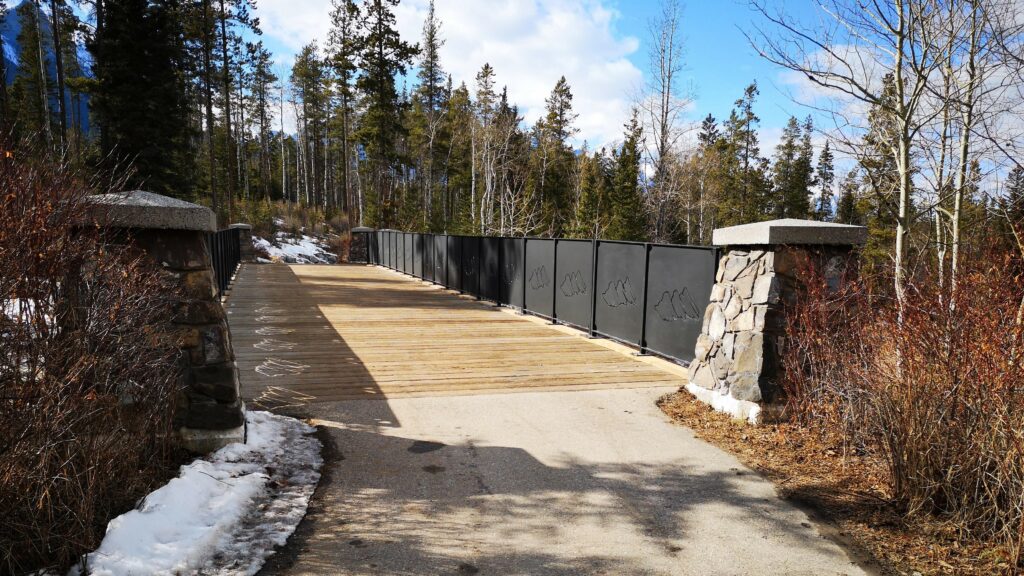 TSMV to transfer over 20 acres of land to Town of Canmore
Pathways, parks, a playground, pedestrian bridge, and other recreational lands within Three Sisters Mountain Village (TSMV) will be transferred to the Town of Canmore. Town Council approved the land exchange on April 2, 2019 in a unanimous decision.
These newly-allotted Municipal Reserve (MR) lands will ensure long-term public access and regional trail connectivity, including the connection to the Trans Canada Trail. Almost five acres of land along the Bow River will be officially designated as formal public recreational space, supporting key trail connections. These parcels of land have been deferred over the years, dating back to previously developed subdivisions where MR was not fully designated. In total, TSMV is providing 21.7 acres of land, four times what is required, to allow the Town to protect access to these trails.
"It's a win-win. Three Sisters Mountain Village and the Town of Canmore have been working together to provide official public access to these trails and park spaces. This decision will help maintain the important trail connections put in place when developing these past subdivisions," said David Taylor, TSMV president.
The Town of Canmore will be responsible for ongoing maintenance and has budgeted for upkeep and repairs. In 2018, TSMV updated pathways and bridges to fit within town requirements; current trails will not see any noticeable difference in the near future.
"The trails that cross those lands are really valuable to our community and I don't know if very many residents understood that those trails were, by and large, on private land and could have been closed to the public at any time. This is a really good resolution," said John Borrowman, Mayor of the Town of Canmore. "The driving intent of the regulation for the Deferred Reserve Caveat's on subdivision is really meant to have this end effect where greater benefit occurs to the community through the compilation of a number of small parcels. I am very happy to support this motion."
"I certainly support this motion as well. It does a good job of balancing what the public hold dear, which we know the number one asset in our community are trails, and I think that members of the community would be devastated if they knew they had been at risk," said councillor Joanna McCallum. "I would state that we are getting four times back the land that was owed to us through the caveat. So, I'm pleased with how that is equated out."
"Certainty is always good and this is a real relief to know those people who value those lands for recreational purposes will continue to have access. So, I thank all the parties involved," said councillor Esmé Comfort.
Deferring land is a common approach that allows the municipality to access larger, more functional parcels of land. Our Lady of the Snows is a previous example of several subdivisions accumulating MR lands to develop the school site, sports field, and baseball diamond.
Read the agenda and watch the council meeting webcast to learn more.