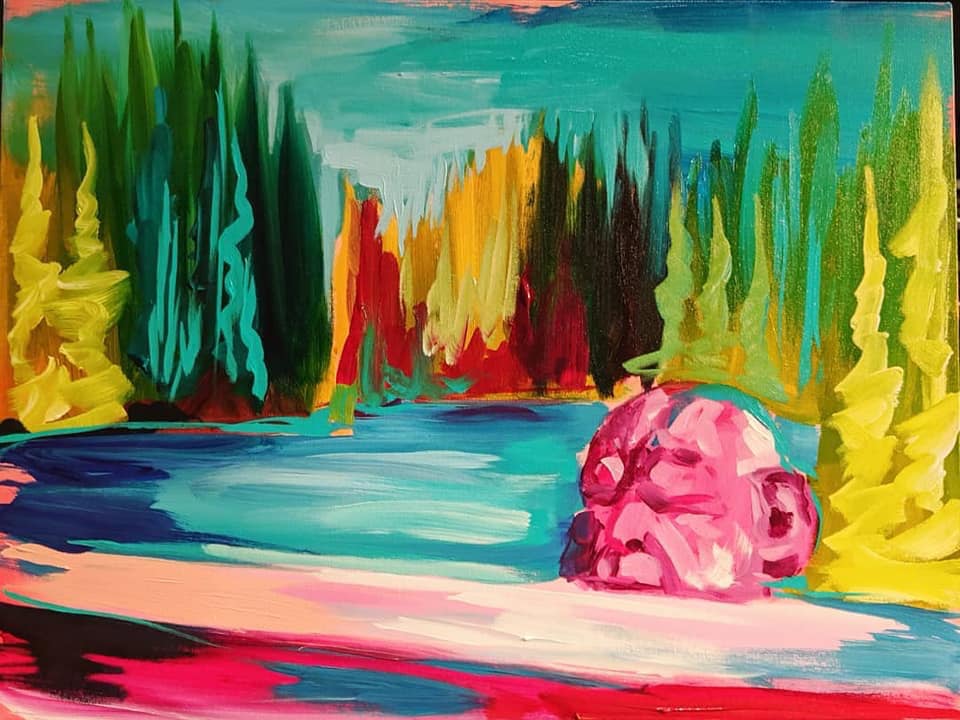 TSMV supports artsPlace programming with $10,000
Creating opportunities to participate in the arts and appreciate creativity helps build community and enrich lives. This is the core of what Canmore's artsPlace offers—a welcoming, user-friendly space where Bow Valley residents and visitors can gather to explore, discover, and celebrate.
The community arts centre offers a wide range of free and subsidized programming—classes, workshops, family activities, events, festivals, exhibitions, films, performances—but fees only cover 40 per cent of program costs. To help support their vision, TSMV increased funding to $10,000 in 2019 for the annual Creative Combat fundraising event, as well as weekly Family Sunday artsPlay workshops that offer art-making activities inspired by the season, art history, and artsPlace exhibitions.
"artsPlace is fulfilling an important community need. TSMV and its owners have long been supporters of the arts, so we wanted to increase our investment this year—adding the family programming," said David Taylor, TSMV president.
Creative Combat 5.0: Paint smocks on, gloves off!
artsPlace's annual fundraiser Creative Combat celebrated five years of fun and frivolity on Saturday, Oct. 19 at artsPlace. Known as the artist showdown of the year, 12 painters created new work with 20 minutes on the clock, while a DJ spun tunes and partygoers sampled hors d'oeuvres.
Congratulations to the winner Kayla Eykelboom and to the incredibly talented artists who committed to supporting artsPlace: Chrissy Nickerson, Patti Dyment, Dana Roman, Katie Barron, Kathryn Cooke, Raegan Emily Hrywkiw, Belinda Fireman, Kate Gauthier-Riggs, Aimy Van Der Linden, Libby Amber, and Kelly VanderBeek.
"It was a really exciting, fun, party atmosphere – it's different than your typical fundraiser party," says communications manager Paula Krupa. "You get to watch artists in action and support artsPlace at the same time, it's a unique experience."
New to this year's event, which was supported by Three Sisters Mountain Village, the final four paintings that made it to the last round of Combat were auctioned off live. With all 12 artists either from the Bow Valley or from Alberta, Krupa called it a great mix of professional and emerging talent.
"The artists on the stage always bring a lot of creative energy to the room. It was a friendly competition, but they gave us a good show."
artsPlay: The family that plays together… goes to artsPlace for free on Sundays
From now through to Sunday, Dec. 20, TSMV has helped to sustain free weekly programming for young families in the Bow Valley called Family Sunday artsPlay. From bookbinding to making sculptures and using watercolours, artsPlay is an opportunity for young families to experiment with art together through the help of an instructor.
"This is an open, non-intimidating environment where parents and children can experience art together. It's a great family activity," says communications manager Paula Krupa.
And in a community where affordability challenges are prevalent, having this programming available at no charge is a gift, adds Krupa.
"The support from Three Sisters Mountain Village is important to us because we love the idea of not having any barriers to art. Young families might not have extra funds, so we feel artsPlay is a way for the community to engage in arts and experience what's happening here."
Sessions are from 10:15-11 a.m. and 11:15 a.m. to 12 p.m. on Sundays. Registration for either session is at 9:45 a.m. Go to artsplacecanmore.com for more info.